Sep 25, 2014
Cyber Crime on the Rise
When hackers gain access to consumers' personal information, it opens the door for identity theft and other financial crimes. Data breaches resulting from attacks on large retailers have dominated the news, but sophisticated cyber crimes also threaten small businesses, many of which don't have the funds needed for cutting-edge security strategies.
Ransomware, for example, is a menacing virus that locks businesses out of their computer files and demands payment of a ransom in exchange for the return of company systems and data. A trojan attack can compromise a small business's website and access the databases of larger companies with which it conducts business.
In 2013, 30% of all hacking attacks were aimed at small businesses with up to 250 employees, compared with 18% in 2011.1 Given the risk, it might be safe to assume that your business could be targeted and prepare accordingly.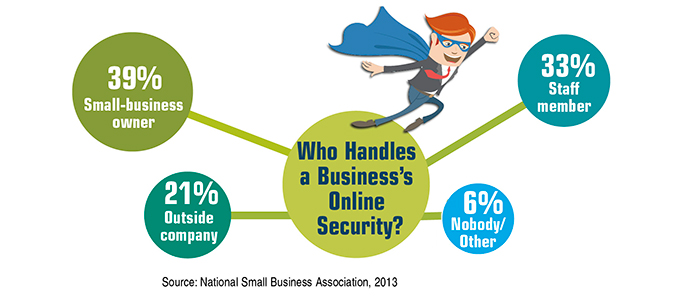 Liability Shift Coming
To fight fraud, retailers and banks are rolling out a more secure payment standard known as EMV, which requires that new credit and debit cards be embedded with computer chips. Each transaction uses a unique authentication code instead of a static card number, so if a store is hacked the information can't be used again.
Beginning in October 2015, U.S. merchants without EMV-compatible readers will become responsible for fraudulent charges when chip-based cards have been provided. Business owners may want to start exploring new options and weighing the potential costs and benefits of updating their payment technology.
Serious About Security?
The Federal Communications Commission offers the following cybersecurity tips for small businesses.
Install and update antivirus and antispyware software on every computer, and maintain firewalls between the internal network and the Internet.

If you have a Wi-Fi network, set it up so the network name is hidden and a secure password is required for access. Require all passwords to be changed on a regular basis.

Train employees in security practices and set up a separate account for each user.

Lock up computers, laptops, and tablets to prevent them from falling into the wrong hands.
A company may be held liable if customers' private information is disclosed. Fortunately, Internet liability insurance may offer some protection (up to policy limits) from the financial risks associated with computer hacking, spam, viruses, and other online perils.
1) CNBC, September 25, 2014
The information in this article is not intended as tax or legal advice, and it may not be relied on for the purpose of avoiding any federal tax penalties. You are encouraged to seek tax or legal advice from an independent professional advisor. The content is derived from sources believed to be accurate. Neither the information presented nor any opinion expressed constitutes a solicitation for the purchase or sale of any security. This material was written and prepared by Emerald. Copyright 2015 Emerald Connect, LLC.